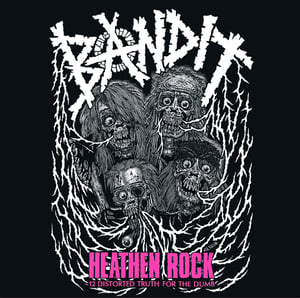 €

13.00
SOLD OUT!
...but you can get it from the following European distros:
La Vida Es Un Mus (UK)
Inflammable Material (UK)
Phobia (Czech)
Kämäset Levyt (Finland)
Static Shock Musik (Germany)
Crucificados (Germany)
Wake Up Anarchy Rider (France)
...
A couple of years in the making, this Japanese hardcore masterpiece finally gets a long overdue vinyl reissue. Originally released in 1991 on CD format only, Heathen Rock was Bandit's debut release, a relentless 12-track hardcore assault. The Kitakyushu-based band played Japanese hardcore typical of the era, comparable to Lip Cream and Nightmare on speed: raging riffs, fast 1-2 drum beats, brutal vocal delivery, and anthemic gang choruses. It's all there! After their demise in the mid 90s, members went on to form the acclaimed 惡AI意. Comes with a full-colored 12 page booklet and improved cover art. Remastered for vinyl purposes and comes with a download of demo and unreleased comp tracks.
Mailorder-only edition on pink vinyl is SOLD OUT. Sorry.
NOT FOR SALE OUTSIDE OF EUROPE!!!
For American/Asian/Oceanian orders, please check out the links on the Ratbone index page: http://ratbone.free.fr